Players will be permitted to wear up to six of their own patches on their shirt. Additionally, the PDC Asia will provide players with up to two patches which must be worn.
Right-handed players should position their own logos in the following order of priority:
Middle Right chest (position 2)
Middle Left chest (position 4)
Lower Right chest (position 7)
Lower Left chest (position 8)
Right Sleeve (position 5)
Left Sleeve (position 6)
The PDC Asia's two logos will be positioned as follows:
Upper Right chest (tournament sponsor – position 1)
Upper Left chest (associate sponsor – position 3)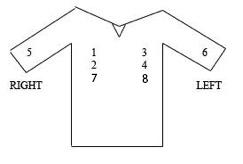 THE PDC ASIA IS PROVIDING PLAYERS WITH SPONSOR PATCHES FOR THIS EVENT. THESE PATCHES WILL BE DISTRIBUTED AT THE TOURNAMENT. THESE PATCHES MUST BE SECURELY AFFIXED ON TO POSITIONS ONE AND THREE OF THE SHIRT.